I am going to try to make a concious effort to blog everyday here or on my Sparkpeople page. I think it will force me to look at what I am eating once I am out of this phase of the diet.
Doing well, Cooking for the Family, then taking out my portion, and not eating the carbs and fats. But I refuse to cook seperate meals for myself.
I decided to crochet yesterday instead of watching football with the guys, too many temptations out there!! Cheese and crackers, salsa and chips, potato chips and sour cream onion dip. I LOVE CHIPS AND DIP!!
But I was not feeling very strong yesterday. so I sequestered myself away and did some projects I needed to finish.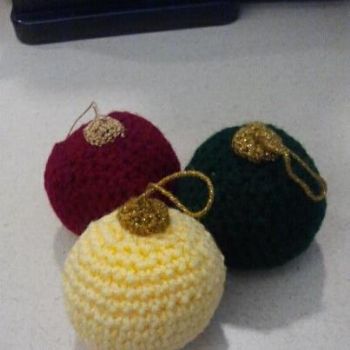 Aren't they cute, crochet Christmas balls, I stuffed with fiberfill.
Going to make a bunch fo them.
As for the diet: doing really well:
Oct. 18 – 214.8 – Load day 1
Oct. 19 – 216.8 - Load day #2
Oct. 20 – 217.8 - First day of restricted diet.
Oct 21 – 213.8
Oct 22 – 212.0
As my nutritionist likes to say...none of the white DEATH...yes, she's a bit dramatic.
No Sugar, no flour, no rice, no potatoes, no milk products.
No oils, limited fats (for the first 6 weeks)
No high sugar fruits. (I can have apples, strawberries, grapefruit and orange)
Proteins and low carb veggies (no winter squash, corn, peas or carrots)
I WILL REACH GOAL!!!